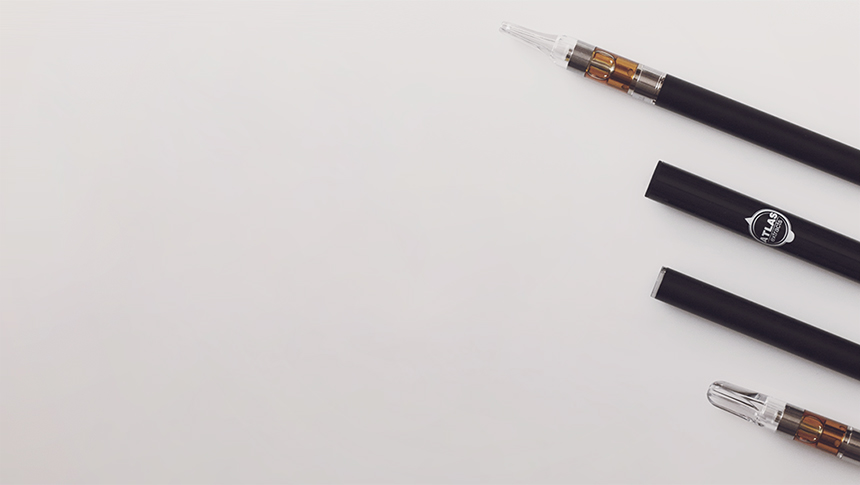 ATLAS CO2 EXTRACTS
Our Product
Our whole plant line of strain specific CO2 oil is available in disposable cartridges featuring the latest technology. Our uniformly heating CCELL cartridges represent the latest in vapor technology. Each delivers a high volume, high flavor hit that will remind you of your favorite dab rig instead of a pen.
No longer must one choose between a disposable tank that hits, or one that has flavor. With our cartridges you get both. If purchased with our recommended 4V CCELL battery, simply inhale and enjoy.
THE ENTOURAGE EFFECT
"The whole is greater than the sum of its parts."
– Gestalt
At Atlas, we believe in the healing power of whole plant extract. This means the full spectrum of cannabinoids and terpenoids found in our plants are in our extract.
Entourage Effect
All cannabis compounds working in synergy to provide the healing you expect from the strain you love.
Terpenes
Terpenes are more than smell and flavor, they affect how the cannabinoids interact with your body. Myrcene combined with cannabinoids is believed to provide a sedative effect, while helping with inflammation, and pain. Limonene beyond its citrus smell is believed to help relieve stress while elevating your mood.
Our terpenes are preserved through our extraction process, not added after. This means the terpene profile matches the plant from which our extract is derived.
Research
Per Wagner and Ulrich-Merzenich, for phytopharmaceuticals synergy in successful medicinal herbal combinations, such as cannabis, there are four basic theoretical ability mechanisms:
Affect multiple targets within the body
Improve active ingredients absorption
Overcome bacterial defense mechanisms
Minimize adverse side effects.
This error message is only visible to WordPress admins
Error: No feed found.
Please go to the Instagram Feed settings page to create a feed.
ABOUT US
Cannabis is a worldwide phenomenon touching all peoples of the earth. From east to west, north to south and across time, cannabis has been used as a source for healing, spirituality, and community by nearly every culture.
At Atlas Extracts we believe in the power of cannabis. Our craftsmen select only the highest quality cannabis for our oil. Each batch is treated with the love and passion required to preserve the terpenoid and cannabinoid profile unique your favorite strains.
Whether you're healin or chillin, Atlas has an extract for you.